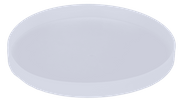 ISO100-PC
ISO100 High Vacuum Flange Plastic Cap
• Fits: ISO100 Flange OD: 5.12"
• Fits: ISO100, LF100, NW100, NW-100, ISO-K
• White Plastic Cap, Polyethylene
• Protect your flanges from scratches
• High Vacuum Flange Protector Cap

Fits ISO100 (ISO-K) Claw Clamp Style Flanges,
Does Not ISO-B100 Bolted Flanges


ISO100-PC compare to: PC-LF100 0600507 100760010 QF100CAP P1010923



Contact LDS Vacuum with any questions:

Phone (407)862-4643 via Fax (407)862-8723 or
info@ldsvacuum.com
LDS Vacuum Products is a 100% woman owned company and
certified Woman Owned Small Business (WOSB)
The logos and/or trademarks appearing on this page are not owned by or registered to LDS but, rather, designate products sold by LDS, and are owned and/or registered to the manufacturers or suppliers of the products.
Images Shown May Be For Reference Only
There is a global helium shortage. Each time an MRI is performed, helium is used. Please rethink your helium balloon purchase.