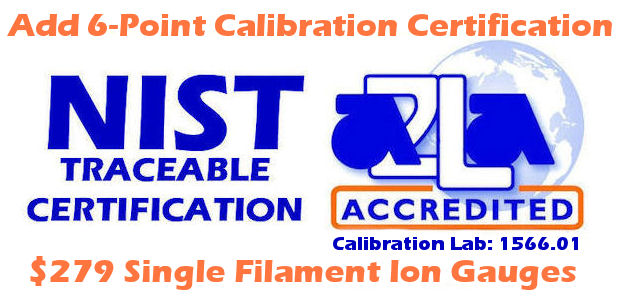 UNCOATED, STANDARD RANGE ION GAUGES:
• Operating Pressure: 2x10-10 torr to 1x10-3 torr
• X-ray Limit: 2x10-10 torr
• Sensitivity: 10 torr-1
Pyrex tubulation with a graded seal for tubes "torched" to pyrex glass.
Contact LDS with any questions:
Phone (407) 862-4643 via Fax (407) 862-8723 or info@ldsvacuum.com
LDS Vacuum Products is a 100% woman owned company.
The logos and/or trademarks appearing on this page are not owned by or registered to LDS but, rather, designate products sold by LDS, and are owned and/or registered to the manufacturers or suppliers of the products.